Thailand Technology Development Center Set to Use Blockchain in Voting
Chalee Vorakulpipat, the head of the cybersecurity laboratory at NECTEC told the Bangkok Post that NECTEC had developed Blockchain technology for e-voting, and it could be applied at national, provincial or even smaller levels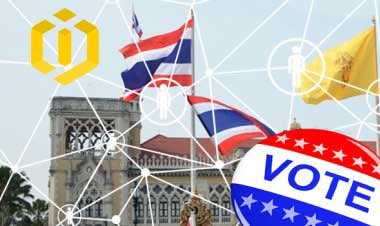 News,coin,bitcoin,counos,cryptocurrency,Cintjournal,blockchain,bitcoin news,NECTEC ,technology ,national,Blockchain technology
Bangkok Post reported on January 2 that The National Electronics and Computer Technology Center (NECTEC) in Thailand has introduced Blockchain for e-voting.
NECTEC is a statutory governmental organization that operates under the supervision of the National Science and Technology Development Agency and the Ministry of Science and Technology. The organization is in charge of the developing calculations, electronics, IT and telecommunications. It will be developed consistent with Thai people gradually trained in technology. According to NECTEC, once 5G is fully implemented in Thailand, all voting procedure will be conducted through this new technology. Chalee Vorakulpipat, the head of the cybersecurity laboratory at NECTEC told the Bangkok Post that NECTEC had developed Blockchain technology for e-voting, and it could be applied at national, provincial or even smaller levels. The mission is to reduce frauds and maintain data integrity. He further added that "in order for our system to be efficient, we need controllers, voters, and candidates. Prior to the election, the controller can verify the voter's identity and the candidate's qualifications. Voters will be able to vote by the email verified by a smartphone."
While Blockchain-based voting mechanism has enough potential to make elections faster, cheaper and more secure, it will take time to ensure that each voter has access to mobile internet connection. According to Vorakulpipat, Blockchain-based voting can be developed in a shorter time, provided it is applied in a closed environment. For example, Thais living abroad could go to their embassy and vote there through this mechanism. He also said that "the system can be applied in smaller elections at organizations like universities, provinces, and committees."
Other countries have also taken steps towards using Blockchain in the voting process. In the 2018 federal mid-term elections in the U.S., the secretary of state of West Virginia reported that Blockchain technology has been successfully implemented in the voting process. This system had been activated for the residents of West Virginia living abroad. Both Zug, Switzerland and Tsukuba, Japan, used Blockchain-based voting in the municipal elections. In the city of Tsukuba, the election was limited to some programs. Voters could select which of the 13 proposed initiatives they want to support and vote for, including developing a new cancer diagnosis technology, constructing objects for outdoor sports, and creating sound navigation in the city. Earlier, South Korea had also announced that it intended to use Blockchain technology in the voting system.
The idea of using Blockchain technology in elections is valuable enough to be considered as more than just a simple trial. Using this technology will eliminate fraud in elections and will allow citizens to be able to vote comfortably anywhere in the world. With Blockchain it can be assured that all the votes have been counted and that the results are completely transparent. Those who participated in this kind of voting in West Virginia were identified using biometric tools such as fingerprints. Each vote forms part of a chain of votes, the voters' identity remains completely anonymous while you can easily follow the information about the results of the election. According to the founder of Votem, "we are two years away from holding elections totally based on Blockchain in the U.S , and as governments change, the role of Blockchain in these elections will become stronger."
Different companies could use tokens to grant employees voting rights. For instance, the more coins an employee has, the more valuable his/her vote will be. It will encourage good behavior and performance on the part of employees. Currently, companies such as Ethereum use this mechanism to provide more transparency as well as distributing power appropriately.