MasterCard Will Support Cryptocurrencies in 2021
The prominent and well-known financial and credit card company, MasterCard, has announced that it will start supporting cryptocurrencies in 2021. Read this article to find out more.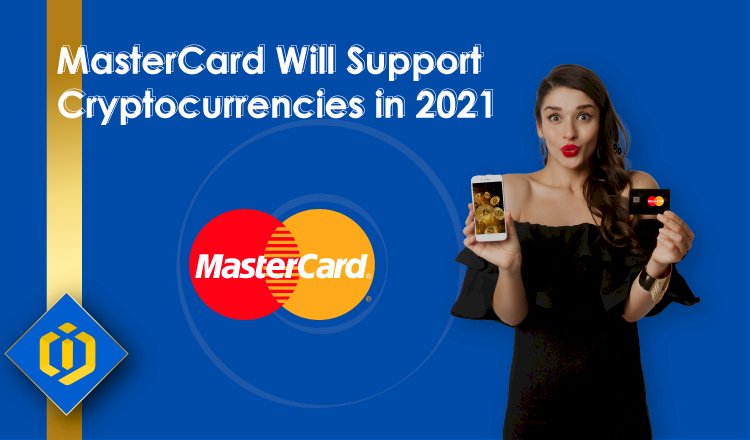 MasterCard broadcasted its plans of supporting cryptocurrencies in 2021. Even though it is not revealed which coins will be supported by MasterCard, it will allow its approximately one billion users to spend their digital assets on more than 30 million merchants conveniently.
The company assumes this action will attract new customers to merchants and will create loyalty with current customers who are already moving from traditional fiat options to digital assets.
This firm has stated that MasterCard is not here to suggest clients beginning to use cryptocurrencies. But it enables consumers, merchants and companies to change the digital value. It is about the choice of traditional or crypto, as users want. It should be their choice since it is their money.
The global payment giant wrote on its blog that due to the reliability and security of stablecoins, it plans to support them but refused to name any particular cryptocurrencies it would incorporate.
Mastercard, presented four primary requirements for evaluating potential assets: strong consumer protection, like consumer privacy and security, strict KYC compliance, adherence to laws and regulations, and stability as a payment form.
It also has mentioned that to endorse central bank digital currency initiatives or CBDCs; it is actively participating with several major central banks around the globe.
The company launched a "virtual sandbox" instrument last year to show how a CBDC can be used to make customer transactions via the infrastructure of MasterCard.
MasterCard's report revealed a growing demand for digital assets among its customers, noting that many consumers have been purchasing crypto assets with their MasterCards during the current bull market.
The company also added that Digital assets would become a more important part of the payments world. It has dedicated considerable resources to explore distributed ledger technology, with 89 Blockchain patents currently held by the company, while 285 additional applications are awaiting.
For a good while, the payment provider has been active in crypto payments, working with Wirex and BitPay to make crypto cards, but no cryptocurrencies have passed into the network of MasterCard.
Tesla reported it would soon approve Bitcoin payments for its cars. The company recently also purchased a $1.5 billion Bitcoin from its cash reserve.
PayPal announced that it would provide crypto payments for its 26 million merchants and doubled down on crypto just after the limited trading services of crypto or the exceeded expectations.
Lately, on a Q1 earnings call, Visa Chairman and CEO Al Kelly confirmed one more time their commitment to crypto payments and onramps.
There are different predictions on the other tech companies that will be the next one to join the unknown world of cryptocurrency. RBC Capital Markets suggests that Apple should do the same as Tesla. Mitch Steves, an RBC analyst, stated that it would create a massive new growth opportunity to build a crypto exchange into the Apple Wallet.