XAU.Money: Brining Artificial Intelligence to Forex Gold Trading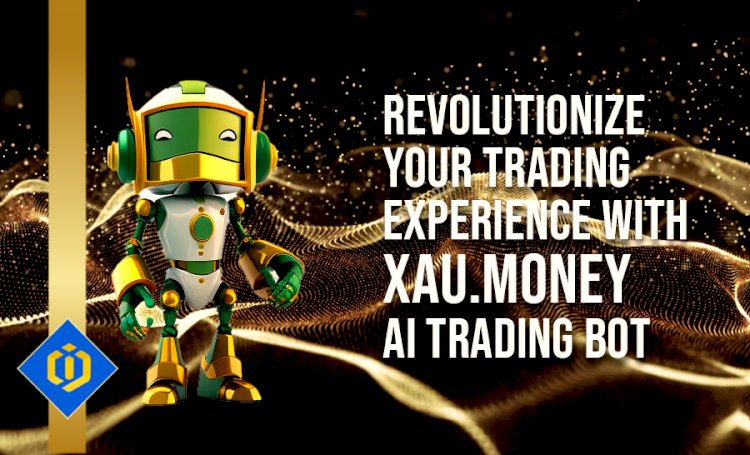 Our top-notch, AI-powered trading bot will help you enter the future of forex trading. The automated trading solution from
XAU.Money
offers a special chance to improve your trading methods and increase your profits.
Break free from the restrictions of lifetime bots by embracing our flexible monthly subscription model. This model enables us to continuously support and update you, ensuring that our bot changes to reflect shifting market conditions. We're committed to enhancing your satisfaction and improving its performance.
Free Trial: Try out our bot's capabilities before subscribing. Because we think it's important to earn your trust, we provide a thorough 14-day free trial. You can test the bot during this time, see what it is capable of, and then decide.
Transparent Performance: Trust is the cornerstone of our business, and we promote it by offering convincing proof of our bot's effectiveness. On reputable platforms like MQL5 and Myfxbook, we provide live account statements for more than ten months. Because of this openness, you can accurately assess the past effectiveness of our bot.
Live Performance Stream: As part of our ongoing commitment to openness, we run a live performance stream on YouTube. This enables you to keep an eye on trades being made, keep track of results, and gauge our bot's performance in real time.
The distinctive qualities of
XAU.Money
is used for more than just these services. Our bot incorporates both an indicator-checking feature and an advanced news filter, both of which are strategically planned to help you navigate volatile market conditions and safeguard your investments.
News Filter: Our bot makes use of a cutting-edge news filter that keeps tabs on upcoming breaking news and assesses its potential market impact. The bot reduces the risk of unexpected market volatility by filtering out high-impact news events.
Indicator-Based Analysis: During news events, our bot examines indicators to determine potential effects on open trades. The bot starts a preventive risk management process if it finds that a trade will have the opposite effect of what is expected from an upcoming news event.
Position Closing: The bot strategically closes all pertinent positions when it recognizes a trade that could be adversely affected by impending news. This action demonstrates the bot's capacity to adjust to market changes and safeguard your investments by limiting potential losses and avoiding being forced into unfavorable trades.
These features are incorporated by XAU.Money to offer a highly successful, risk-controlled trading experience. Our bot helps traders protect their capital by helping them avoid needless losses during tumultuous news events. This distinct, thorough method of automated trading distinguishes XAU.Money In the competitive forex market, XAU.Money sets itself apart from rivals and strengthens its strong performance.
XAU.Money's Best Trading Approaches: The AI bot created by XAU.Money is not only programmed to respond to changes in the market, but also to anticipate them. The bot searches for profitable trading opportunities and executes trades with unmatched precision by utilizing machine learning and sophisticated algorithmic strategies. By doing this, you can make sure that your trading strategy is always optimized and flexible to the shifting dynamics of the forex market.

Our dedication to you extends beyond just offering a cutting-edge trading bot, as evidenced by our customer support. We place a high value on customer satisfaction and provide each and every one of our users with thorough support. Our knowledgeable staff is always on hand to respond to your questions, assist you with any difficulties, and make sure you get the most out of your trading with XAU.Money


Improvement Over Time: XAU.Money's innovation is essential to making money. By incorporating the most recent developments in AI and machine learning, we continuously enhance the capabilities and functionality of our bot. We are aware that our bot and the forex market are both dynamic. Our dedication to ongoing development keeps XAU.Money always up-to-date
At XAU.Money, there is a sense of community and education. We think that an informed trader is a successful trader. We offer educational materials to make it easier for you to comprehend the capabilities of our bot, the nuances of automated trading, and the dynamics of the forex market. We also support a vibrant community where users can exchange experiences, benefit from one another's knowledge, and develop together.
XAU.Money offers flexible payment options: You are free to select a payment schedule that works for you. To make the process simple and convenient for you, we provide a variety of payment options, including the ground-breaking Revolut.
XAU.Money's AI bot is your partner in the forex market, not just a tool for trading. The features it combines are all intended to give you more control and increase your trading potential. Your trading experience with XAU.Money will be successful thanks to our highly developed news filter, indicator-checking system, ongoing support, and dedication to transparency. XAU.Money is effective, lucrative, and secure. Join XAU.Money to start your journey. Experience the revolution in automated forex trading by putting money down today.