Instant Messaging and Blockchain Technology
Social networks and messengers are altered along with the storm of new technologies such as Blockchain. Developing and designing messengers which work according to Blockchain system, will dramatically change the future of big services such as Facebook and WhatsApp. However, the question is that the what are the drawbacks of domestic instant messengers; or in other words, what are the new features of messaging services which are developed according to Blockchain which cause their superiority over their previous generation?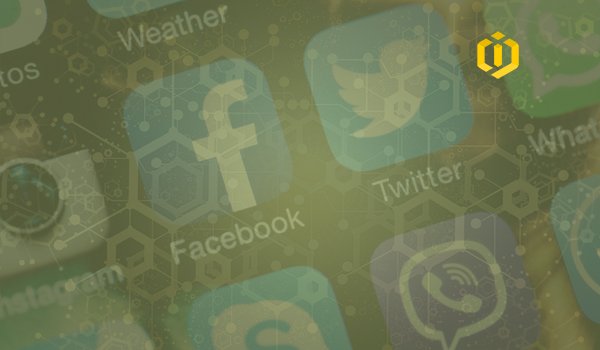 Instant Messaging and Blockchain Technology
Social networks and messengers are altered along with the storm of new technologies such as Blockchain. Developing and designing messengers which work according to Blockchain system, will dramatically change the future of big services such as Facebook and WhatsApp. However, the question is that the what are the drawbacks of domestic instant messengers; or in other words, what are the new features of messaging services which are developed according to Blockchain which cause their superiority over their previous generation? Can Blockchain offer more services and facilities by creating a more proper and complete infrastructure? In order to find a more appropriate understanding of facilities and features of Blockchain messengers you should make familiar with them more:
What Are the Limitations of Current Messengers?

Most of the current messengers cannot be managed easily in very wide dimensions. For example, managing groups with a large number of members is a little difficult. In addition to the fact that some current messengers are not designed for a large number of people, limitation of some to offer facilities such as group video calls is one of the demerits of these applications. Let alone small and nominal facilities such as not being specified the location and geographical locality, the issue of security is one of the basic points which should be taken into account in message exchange, how much do traditional messengers emphasize on the data encryption? When a message arrives the destination, it will be placed in the users' electronic device and registered there. This message will be placed on the other server and device and in case there is a sensitive and secure message, it will be put at risk to a large extent; that is, after sending a message, its control and management is not in the hand of sender anymore and he/she cannot be sure about eavesdropping and getting access to it.
After the events taking place for the users' personal information in Facebook social network and jeopardized the security of many users, the need to provide the security of social networks got more than before. The issue of information security in a world wherein technology and information has turned into a pervasive part of the people's lives is considered very vital and important. Apparently, in new instant messengers, these problems will be removed greatly.
With the fast growth of smart tools such as cell phones, the number of cyberspace users is increasing day by day or even second by second. As a result, the volume of information which is created in the world will get bigger strongly. These data need investigation and processing. In order to straighten out this wide volume of information, you should resort to an extensive network such as Blockchain, a network which is not centralized, not located in a specific country and can be managed by self-regulation on the part of users. According to the assessments, in the near future, the volume of information which is exchanged in virtual networks will be much more than what we witness these days.
What Is the Difference between Blockchain Messenger and Traditional Ones?

Before we start explaining features of Blockchain-based messengers, it would be better to elaborate exceptional features of Blockchain. Why is Blockchain considered a secure system to exchange different messages? Blockchain is a database. The followings are of its main features:
Decentralization

Blockchain is a network which is managed by the users themselves; that is, no main and central core undertakes its direction. Hence, there is no possibility of manipulating information on the part of senior authorities such as governments. The network with no censorship, blocking, and information stealing in it does not have the value of investigation and application.
Information Immutability

The information cannot be changed in the Blockchain system. This features shows that Blockchain can become one of the best infrastructures to develop messenger applications. Information immutability in this infrastructure avoids violating privacy and various frauds.
Resistance Against Removal and Censorship

Since Blockchain is an independent network, there is no place for governmental and state surveillance. So no foundation or institution can block and cease it. It means that we face a free information flow with no censor and pressure.
The messengers which work according to Blockchain employ an End 2 End encryption system. In this method of encryption, there is no possibility of observing exchanged data between people by a third party, and it is only the sender and the receiver who can manage the messages. As a result, no one can access to the messages exchanged between two parties. In new messengers, authentication is carried out via Blockchain, so stealing personal information is not possible in the authentication stage. Moreover, decentralization of Blockchain system does not let any state or foundation stop the users' activity. In fact, it is not possible to block, limit, control or inactivate the users' accounts at all.
Simultaneous Use as Payment Gateways

One of the most alluring feature of using Blockchain technology to send a message can be the possibility of transferring funds from a digital account to your contact lists. This rowdy feature will be a big leap in transferring minor or major assets besides raising payments' security through facilitating financial transfers.
What Are the Security Mechanisms in Blockchain Messengers?

In these messengers, all the users own a public address and a private key. For example, suppose that two persons named A and B would like to make communication in Blockchain messengers. They just need their public address to communicate. They can create a safe communication through public addresses. Now if anyone wants to get engaged in this reciprocal relationship, he/she should know the private key of one of these two people. Knowing the private keys of A and B is the only way to come into a two-handed conversation.
As it was pointed out before, first A and B need to recognize each other's public addresses to enter a reciprocal communication. The important question is that in the first stage, how do these two people get access to the public address or ID too?
In normal and usual messengers, a centralized network and system manages the users' messaging to each other. That is, if it is supposed that A and B find each other's public address, he/she should refer to a third party and receive the related information from it. In this case, the possibility of making communication will be there.
However, in your idea, does such a form of communication enjoy sufficient security? Let us name that third party which is centralized network management in traditional messengers (e.g., Facebook, Twitter) as C to simplify explaining this security subject. Supposedly, for forming each conversation between two users like A and B, you need to refer to C, it then gives the public address of the one to the other.
There is no problem up to this stage, because C, despite having IDs or public addresses of mentioned users, doesn't own their private keys. Therefore, there is not the possibility of entering their conversation, eavesdropping and abusing them. However, it is supposed that C gives its public address to B or vice versa instead of A's public address. In this case, he/she can gain access to the information which has been assumed to be exchanged between the two. It is here that Blockchain comes in. Blockchain with its unique structure can significantly raise the security coefficient in its infrastructure. However, why?
How Can Blockchain Provide New Messengers' Security?

If you pay attention to the previous example, you will notice that with the existence of a third party in a communication in a messenger, it will be highly probable to lose the security of messages and chats. However, with Blockchain, this problem will be solved. How? In the Blockchain network, each user, or let's say, a computer connected to the Blockchain network, is called a "node." All existing nodes in the Blockchain store all the users' public addresses or public IDs of the network. These nodes are in relation with each other, and any change in the existing data in Blockchain including public IDs will be reported to all the users. As a result, no intermediary like what has been said, such as C can alter the addresses and IDs. Therefore, when A and B want to make communication, they comfortably will find each other's ID or address, and each makes a two-handed private relationship through private keys unique to themselves. No one will find a way to this conversation except these two, and exchanging message will be completely private for them. In the Blockchain network, no one has the possibility of gaining access to the others' messages, and it keeps network security at a high level.
Blockchain messengers are attractive tools with no control by the states, engineers, computer technicians, and no other person; that is, you confront a totally independent network which is open source and managed by the users. Lack of a central system in the users' interactions, message exchanges and doing financial transactions cause removing communication limitations from the world of Blockchain messengers. Such facilities are highly appealing and ideal.
How Is Storing and Protecting Security of Messages in Blockchain-based Messengers?

Sending messages and emails is an instance of the most challenging affairs that protecting its security through traditional technology tools is almost impossible. In the centralized systems, with the companies, people and generally a third party which intervene in the relationship between two, there is a high probability that the users' messages and private information be disclosed; however, through Blockchain, you can take the initiative and address making communication and interacting with the users without the need to a middleman who observes messages. Removing the third party from the communications can lead to protecting the users' privacy.
Many different types of Blockchain messengers have been developed. These messengers which are available on Android smartphones, computers and iOS phones gives the total control to the user. What does it mean? It means that with messengers which work according to Blockchain, managing the messages sent by the user is completely on him/her. This user can decide whether the message which he/she has sent to be deleted in the other person's system or not. Besides, he/she can specify the duration his/her message is in the other's device. In these Blockchain messengers, by deleting a message, you will remove it forever. It is these users who determine the period after with the message will be deleted or removed. In fact, controlling the deletion of a message is in the hand of the user who sends it. Managing the situation in these messengers is on the shoulder of the users.
All in all, the messages exchanged between the users will be stored on their smartphone or computer, and each message will be encrypted with a unique code specific to that user. As a result, it will no way be possible to read it in the other devices. So when you receive a message in your device, that message is just and solely encrypted for you and it will not be possible for others to gain access to it.
Is It Possible to Make Payments with Blockchain-based Messaging Applications?

Another new and practical feature of the Blockchain-based messaging applications is the possibility to make payments with them. These messaging apps have cryptocurrency wallets. In fact, the world of cryptocurrencies and messaging apps are tied together and in a practical mixture, the new generation messaging apps, have taken distance from conventional messaging apps and have raised to higher grounds. These messaging apps, do not just provide the possibility of exchanging text and image; they also allow users to trade money with each other in a simple way. Of course, it should be pointed out that this money is a digital currency like Bitcoin. For example, two people agree on the amount of money for the trade and then transfer this money to one another via the existing mechanism in the messaging app.
Based on the various messaging apps that are designed and built based on the Blockchain infrastructure, it is possible to develop their digital wallets. For example, it is possible that a messaging app is created on Blockchain that accepts different stablecoins and cryptocurrencies and offers the possibility of trade and transfer with them. The possibility of trading money with messaging apps, in addition to the great comfort that it offers to users, is ideal in the sense that there is no sign of surveillance from states or financial organizations and banks. Therefore, transaction and trades between two people from anywhere in the world become possible. Many countries, because of political sanctions, cannot use payment systems such as PayPal. However, with the possibility of making payments via Blockchain applications, this limitation will no longer exist.
In Blockchain Messaging App, No More Double Spending

In Blockchain-based messaging apps, there is no sign of double spending. This term means spending money twice. Of course, this would not be possible for real and non-virtual currencies. However, in the world of cryptocurrencies, this is possible. When you spend a cryptocurrency, this action is broadcasted to all the computers in the Blockchain network. In order to confirm a transaction, all nodes must approve it. Therefore, reusing a cryptocurrency in such a network is not possible. Since all the nodes are aware of the previous transaction and will never confirm the transaction with the same amount of money with the info that they had already received. This feature greatly helps the security of new messaging apps and prevents financial exploitation in the network infrastructure.
Other Uses of Blockchain Messaging Apps

Blockchain-based messaging apps are not used only to trade messages or financial transactions. Their capabilities can be used for a variety of matters. Different messaging apps that are designed based in the Blockchain technology, also offer the capabilities of different social networks such as Instagram and Facebook. However, there is an interesting difference between these two. The creation of any kind of content in Blockchain-based messaging apps can lead to receiving rewards from other users who have liked that content. As a result, in addition to messaging apps of the social networks type, you will also be confronted with the Blockchain type. Networks in which creating content does not require attracting investors and financial supporters. In fact, if you create valuable content, other users who are your audience will pay for the costs of its creation.

What Are the Top Blockchain-based Messaging Applications Being Developed?

Now that technology has infiltrated different aspect of our lives, and we are enjoying its different tools such as messaging in almost any moment of the day, the need for data security is felt more than ever. According to what has described so far, messaging networks that operate based on Blockchain are much more than conventional messaging apps. In the following, we will address some of the most well-known of these Blockchain-based messaging apps.
Vibeo

Vibeo is one of the most well-known messaging applications that use Blockchain technology in their structure. This messaging app, in addition to various features such as trilateral video call and the possibility to share location, also employs the messaging encryption system and this makes the application that is supported by the Ethereum cryptocurrency to have a reasonable amount of security.
Dust

Dust is one of the first Blockchain-based messaging applications that has entered the market. This messaging app has some unique features. For example, the messages that are transferred between two people are deleted from their devices automatically every 24 hours.
Line

Line application is a very good app to replace WhatsApp. This messaging app supports all kinds of services specific for message transfer and is available in Android, iOS, and desktop formats. One of the prominent features of this application is the possibility of its being used in countries where the use of WhatsApp is prohibited. In August 2018, this large Japanese social network introduced its own cryptocurrency called LINK to the crypto market.
Kakao Talk

Kakao is a Blockchain-based messaging app that has been launched in South Korea. It is possible to make all kinds of video calls with this application. This application intends to launch various innovations by employing Blockchain technology. We should wait and see that in the end, what kind of programs does kakao Talk has for the modern digital world.
Status

Status is a messaging app that operates based on Blockchain and though it you can gain access to the Ethereum network. This application allows its users to make smart contracts and engage in transactions with Ethereum. Among the characteristics of this messaging app is the fact that all conversations in its are encrypted.
E-chat

E-chat is another Blockchain-based application that along with a multitude of messaging services, allows people to engage in trades with cryptocurrencies. By creating content in this social network, the creator can make money as well. This application is available for a variety of Android and iOS phones.
Other various messaging apps operate based on Blockchain. Variety in this market is on the rise. It seems that given the security capacities and different uses such as making financial transactions, the new generation of messaging apps will soon become prevalent and the time to say goodbye to conventional messaging apps will come. The attempts by large companies such as Facebook to use the Blockchain technology in its new projects shows that sooner or later, Blockchain and its belonging will conquer the world. Technology is always growing, and if in time it undergoes some changes and evolutions, you should never resist against it. Many of the advanced countries of the world are analyzing and researching different aspect of the Blockchain technology, and its wide range uses. Unique features that Blockchain can offer users in different fields is really something to think about and cannot be ignored easily.