ConsenSys Backs Monerium Startup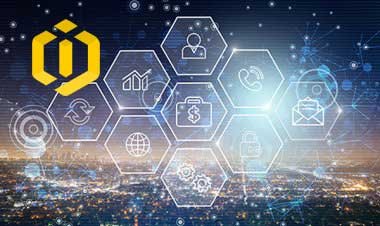 The first cryptocurrency based on Blockchain that was introduced to the market was Bitcoin.
According to an official news published by Monerium startup on January 11, Blockchain, Ethereum, and incubator ConsenSys have cooperated in a $2 million investment course for the Icelandic Blockchain-based startup Monerium. Former director of Iceland Central Bank is among four founders of this startup.
The blockchain is a distributed and encrypted database. Therefore, no one is able to manipulate the history of transactions, and it is transparently available to users. One of the known applications of Blockchain are cryptocurrencies which are founded on this infrastructure. This technology provides security in cryptocurrencies. Cryptocurrency is an encrypted currency which is also known as electronic money, virtual money, and currency crypto. The first cryptocurrency based on Blockchain that was introduced to the market was Bitcoin.
This encrypted platform enjoys four major benefits:
• Not being controlled by any institution or person
• Impossible to face failure and cessation
• Recording transactions in a connected network of users. Hence, a change in a part of Blockchain should be preceded by a change in all users' transaction in the network which is not practical.
• The necessity of manipulating the whole network in case of the need to manipulate Blockchain information.
Ethereum is the second largest Blockchain-based cryptocurrency platform in the market which was created with the aim of providing a space to run decentralized and automatic programs as well as automating processes. Ethereum cryptocurrency was officially introduced on July 30, 2015, under the management of Vitalik Buterin, a 23-year-old Russian youth.
ConsenSys is a software company in the field of Blockchain technology which was founded in early 2015 by Joseph Lubin in Brooklyn, New York. It works toward developing applications and decentralized software services that operate on the Ethereum Blockchain. In July 2018, ConsenSys had more than 900 employees.
According to the published report, this investment course is directed by the Icelandic venture capital fund Crowberry Capital and also the Icelandic private investment firm Hof Holdings. Reportedly, Monerium startup, founded in 2016, in developing a solution to bridge between fiat money (a currency without intrinsic value which is valued only based on government order and regulation) and Blockchains to publish what they introduce as a cryptocurrency.
Jon Helgi Egilsson, former director of Iceland Central Bank, along with founders Gísli Kristjánsson, Hjörtur Hjartarson, Sveinn Valfells, lead a team of 14 people in Iceland, Sweden, United States, and Britain.
According to reports, Monerium startup is awaiting its application review to turn into a financial services company with the permit in the European Economic Area (EEA).
European Economic Area is an area which has been organized since 1994 aiming to make cooperation among European Union members and the European Free Trade Association.
If this application is secure, the license will help facilitate various operations related to planned cryptocurrency issuance, especially asset and risk management, besides compliance.
Andrew Keys, one of the founders of ConsenSys, has stated in an official news release that Monerium startup supports are in harmony with the objective of this incubator to help with the building of the infrastructure needed for an independent and decentralized future.
Earlier this month, ConsenSys with the cooperation of the semiconductor manufacturer AMD and investment management firm Halo (working in the field of software and programming) invested on a project to develop a Blockchain-based (Blockchain is a distributed, encrypted, and secure database) cloud computing infrastructure.
Moreover, ConsenSys signed an agreement with the South Korean technology holding group SK to develop a Blockchain business model using smart contracts.
SK group, which is the third conglomerate in South Korea, is comprised of 92 subsidiary and dependent companies with the trade name SK. This conglomerate has more than 30000 employees who work in 113 of its headquarters worldwide.